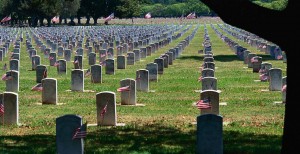 This weekend, we remember the thousands of veterans who've fought and died for us to enjoy the privileges we take for granted.
One of those privileges is the ability to participate in choosing our leaders. A privilege the majority of us will blow off.
Here in Maine, June 8 is an election day. The two major parties will be nominating their gubernatorial candidates and as well as candidates for some state offices. We will also be deciding important issues for our state and our communities.
But it's estimated that less than 30% of us will even show up at the polls.
Less than 30%.
Please, let's remember the sacrifice of our veterans and those currently protecting us by turning out and voting.
Whatever your issue, whoever your preferred candidate, a republic like ours is meant to have direct input from each of us. Not just 30%.
Let's remember our veterans this weekend and on June 8.